Raica Oliveira
---
Brazilian Balance
By Dean Chandler,
Tear Sheet Magazine
Brazil, just the word itself sizzles. And needless to say, in modeling, to be Brazilian is to be hot. The reason for all of this metaphoric burn is that Brazilian women are beautiful—strikingly so. When you think of Brazil, you think of women with olive skin bronzed to golden perfection.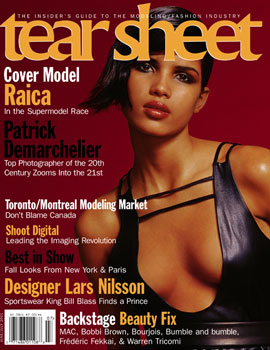 You think of them walking past you on white sand beaches. You think of them wearing bathing suits so miniscule that they could be packed inside matchbook covers. Strike one of those matches inside that matchbook, hold it until the flame touches your finger— that is what you think of when you think of Brazilian women.
It is easy to forget that the beauty of these women begins on the inside. It is easy to forget that until you sit down with Raica (pronounced 'Hi-ka'), one of most stunning, pleasant, and busy models working today.
When you speak with her, you sense the warm innocence of her 17 years. She has been working consistently for the last two years, but you know the industry hasn't affected her by her smile and her very direct, honest answers to questions about her whirlwind career—a career she always knew she wanted.
DC: When did you know you wanted to be a model? Was it something that just sort of happened?
Raica: No. I always wanted to be a model. I remember being ten years old and saying to my mom, "Mommy, I want to be a model!"
DC: Geez, what if you had been ugly?
Raica: What?
DC: Nothing. Now that you are a model, are you happy about your choice?
Raica: Yes, very happy
DC: How did you get your start?
Raica: I entered the Elite Model Look [contest] in Brazil and won it. (A quick side note:
30,000 girls entered this contest) and then I went to the finals in Nice, France, and came in second.
DC: Did you then sign with Elite and start working immediately?
Raica: Yes [I signed with them], but I had to get my book together first before I could work and that took a few months.