Raica Oliveira
---
Brazilian Balance
By Dean Chandler,
Tear Sheet Magazine (continuation)


DC: What was your first job?

Raica: I shot Christian Dior in the beginning of last year. I was very excited and
nervous.

I came to find out after speaking with Richard, her booker for Elite in New York, that along with Raica, there were three other girls who were going to be shot for this campaign. After seeing Raica, photographer Nick Knight sent the rest of them packing and spent his time exclusively shooting her.

DC: After the Christian Dior job, was it just work, work, work?

Raica: Yes. I became very busy.

DC: Where do you live now? Brazil? New York?

Raica: I live here in New York. Iíve lived here in New York for about a year with my mother. My father and two brothers still live in Brazil.

DC: Are they older or younger? Do you miss them?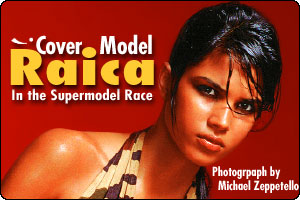 Raica: They are both older and I miss them, but I talk to them every day.
DC: Oh, thatís nice. And it must be good having your mother here. New York can be
intimidating.
Raica: No. I like New York because there is just so much to do.
DC: It sounds like you enjoy staying busy. Speaking of that, tell me about your first Fashion Week here in New York.
Raica: I did 18 shows.
DC: 18?
Raica: Yes [with a smile and a sigh], every day I was running around like crazy. Different hair and makeup for each show, running from one place to the next. I had no time to eat anything except maybe a cookie.
DC: You must have been exhausted. Did you still like doing runway after 18 shows in one week?
Raica: Yes, it was fun. I like doing runway. I like doing editorial and ad campaigns. I really enjoy it all.
DC: Now for some fun questions. Weíll get back to the modeling in a minute. What is your favorite foodÖother than cookies backstage at the shows?
Raica: I like candy, you know, chocolate?
DC: Iím not sure we can classify that as a food. What else?
Raica: I like Taco Bellóall that chicken and cheese.
DC: You mean like a chicken burrito or Gordita or something?
Raica: [laugh] Yeah. And I also like Brazilian food: black beans, rice, chicken.
DC: Sure, a little flavor of home. OK, letís get back to the topic at hand. How much longer would you like to be modeling?
Raica: I donít know, maybe another five years.
DC: Wow, another five years. Youíll get to retire at the ripe old age of 22.
Raica: Yes, but then Iíll be able to go to all of the parties.
DC: [perplexed] The parties? Like you canít go to the parties now?
Raica: No. Now I donít really want to. Iím too young.
DC: Wow. Thatís a refreshing outlook. Youíve done so much in such a short amount of time, I forget that you are still in the prime of your career.
And she has done a lot of work. She has done campaigns for D&G perfume and the aforementioned Christian Dior, and she just completed a campaign for Cover Girl. She also has shot with some of the best photographers, including Stephen Meisel for Italian Vogue.
Through all of this she carries pictures of her family in her daily planner, a youthful smile on her face, and endless exuberance for what she is doing.
I once again ask Richard of Elite for a more professional assessment of her appeal to the companies and people she works with. He says, "Itís because she can do everything. She can do a runway show for Ralph Laurenóshe walks really wellóeditorial for British Vogue and also beauty campaigns. She has a very good combination of qualities." He adds, "She is the kind of model we like. She is a real pleasure to look after."
Rarely does a booker find such a fine balance in a model: a balance not only of a beautiful face and an incredible body, but also of a youthful spirit and a professional attitude.
With her balance, she should be able to walk the fashion tightrope for a long time to comeÖat least long enough to reach an age when she will be able to go to the parties.